---
Art Nouveau Book Cover Design; Peacock Edition by Macmillan and Co.
Albert Angus Turbayne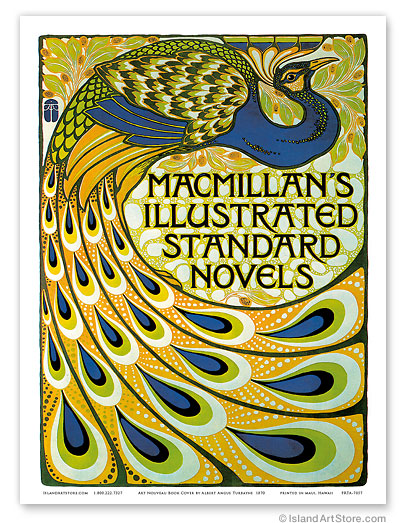 DISPLAYING: 9" x 12" Print

Albert Angus Turbayne (1866 - 1940) was one of the most distinguished book designer and bookbinding designers of the final decade of the nineteenth century, and worked in several styles. Some of his commissions took the form of elaborately tooled bindings in leather which were directed at the expensive tastes, while others, and those which have still have currency, were trade bindings for the modest (or middle-class) pocket.Often linked to the Arts and Crafts designs of William Morris, and credited as one of those who sought to improve public taste by promoting work of the highest quality, he is also viewed as a sophisticated proponent of Art Nouveau. Turbayne was born in Boston, Massachusetts but spent most of his life abroad, first in Canada where he studied, and in England. He worked for the London County Council School of Photoengraving and Lithography and also for Carlton Studio. Famous among his contemporaries, and known principally for the 'Peacock edition' produced by Macmillan and Co. in the 1890s, Turbayne was hailed by critics as a 'genius'. He won a bronze medal for book binding design at the Exposition Universelle (1900) in Paris. The facts of his life are otherwise fairly conventional; twice married, with two children, his personal circumstances remain obscure, only mapped in his very considerable achievements as a graphic designer and especially in his work as a designer of bindings. Turbayne died in London in 1940.
---