Alphonse Mucha - Art Nouveau (1890-1910)
---
Artists Biographies
Alphonse Mucha (1860-1939)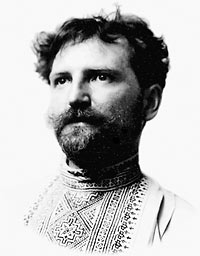 Alphonse Maria Mucha was a Moravian (Czechoslovakia) painter of the late 19th and early 20th centuries. He started his career working at decorative painting jobs in Moravia, mostly designing theatrical scenery. His employer was very much inspired by his work and sponsored Mucha's formal training at the Munich Academy of Fine Arts. Afterwards Mucha went to Paris for further studies.
Mucha has a significant role in the Art Nouveau movement and created pieces that have achieved classic status. He was the creator of numerous paintings, illustrations, advertisements, postcards and designs which became an inspiration for many artists of his time.
He invested many years of his life creating his fine art masterpiece, The Slav Epic. It contained twenty huge paintings that illustrated the history of the Czech and the Slavic people which was donated to the city of Prague in 1928.
---