KIM STARR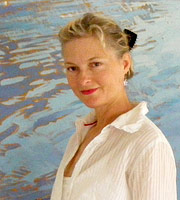 Kim Starr is the preeminent painter of Romantic Realism. Her meticulous attention to detail, combined with the artistic sensitivity of earlier masters, results in contemporary works of unparalleled beauty. Critics have said that Kimís work elicits an immediate emotional response. Viewers are drawn into the image and surrounded by its elegance. It is obvious that they are in the presence of a modern master.
In the last 25 years, Kim Starr has created classic paintings and works on paper for corporate and private collections. Her extraordinary art hangs in public spaces, world-class resorts and homes throughout the world. Hilton hotels, Hyatt resorts, and the Sheraton properties proudly display her art. The success of her gallery exhibits has been overwhelming.
For much of her life as a painter, Kim Starr created her art in serene and beautiful villages on the islands of Kauai and Maui. Inspired by the tropical paradise surrounding her, she reveals in each of her new works a unique combination of rare artistic vision and painterly technique. Today, Kim continues to create jewel-like masterpieces, and collectors everywhere continue to seek out and acquire these works.
Further information may be obtained by contacting: bernard@islandartcards.com
Limited Edition Fine Art Giclée Canvas Prints
by Kim Starr
Available in different sizes. Canvas Prints are Unstretched and ship rolled in a tube.
Usually ships in 7 to 10 business days
---