BRAD LEWIS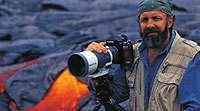 Welcome to the world of Liquid Light, as captured by internationally acclaimed photographer, G. Brad Lewis.
Come on a visual journey to the Big Island of Hawaii, and beyond. For over 20 years, Brad has specialized in photographing Kilauea, the most active volcano on Earth. His volcano pictures have been published in hundreds of magazines and books, been broadcast on television, and won numerous awards.
Brad has produced a gallery of prints, LavArt, featured here, and available for purchase. Most of these lava images were taken in Hawaii Volcanoes National Park.
Please contact bernard@islandartcards.com or call 1-800-222-7327 with any enquiries.
Metal Prints
by Brad Lewis
Usually ships in 7 to 10 business days
Metal prints represent a new art medium for preserving photos by infusing dyes directly into specially coated aluminum sheets. Because the image is infused into the surface and not on it, the image takes on an almost magical luminescence. You've never seen a more brilliant and impressive print! Colors are vibrant and the luminescence is breathtaking.
---