JANET STEWART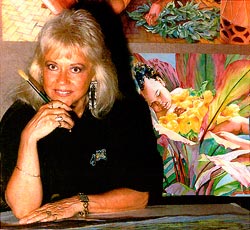 Born in America's heartland, the middle west, Janet Stewart had her first view of the Pacific Ocean at age twelve when her family migrated to southern California. Her first one-woman show was in Pasadena, California in 1976; subsequently her work was shown in many local southern California galleries. Her big break came in 1985 when she was discovered as an artist in Hawaii.
She divided her time between the islands and southern California until 2005, when she was able to realize her dream and move to Maui. She has become well known in Hawaii for her sensitive portrayal of their people, their culture, and their homeland. Stewart has two children, three grandchildren and two great-grandchildren.
Stewart works mostly in watercolor, using the best paints available, from various makers depending on the colors. She paints on Arches watercolor paper, moldmade of the finest 100% cotton.
The ambiance she puts into her Hawaiian paintings has carried over to other areas of the world. Her sensitivity is apparent in her portrayals of life everywhere, although she is happiest in tropical areas.
She had begun drawing people at a very early age, and her proficiency developed without a formal art education. Her people are alive -- their hopes and dreams shine through the painted images.
"It is very deep gratitude that I have responded to the reception the Hawaiian Islanders have given me," says Stewart. "Through their inspiration, I am able to continue to work at achieving my dream."
Please contact bernard@islandartcards.com or call 1-800-222-7327 with any enquiries.
Limited Edition Giclée Art Prints
by Janet Stewart
Edition Size: 450 signed and numbered.
Dimensions shown are image dimensions; add 1.5 to 2 inches each side for border.
Usually ships in 5 to 10 business days.
---