ARTISTS SHOWCASE
MONICA & MICHAEL SWEET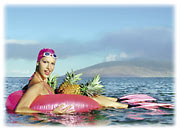 Monica and Michael Sweet express themselves as a team.
They spend their days working at what they truly love: photography.
In touch with the beauty of Maui and the Hawaiian islands, they capture the spirit of the moment. Their style consists of vivid works, bright colors, and intimate perspectives of our beautiful paradise.
Comfortable diving, snorkeling, and kayaking, they strive to get close and capture the rare fleeting moments and aloha spirit of the Hawaiian islands and surrounding environment using modern camera and post processing techniques.
Monica was born and raised outside Geneva, Switzerland - studying art and photography. Michael grew up in California painting, studying photography and digital art. They met in San Francisco, married a month later, and moved to south Maui were they now live and find their inspiration.
Between them they have won over 20 international awards for excellence in art and photography and had their works published in magazines and books.
"Every morning unfolds in it's own unique special way - Every day is a new exciting adventure"
Please contact bernard@islandartcards.com or call 1-800-222-7327 with any enquiries.
Premium Double Matted Giclée Art Prints
by Monica and Michael Sweet
Handsigned by the Artist
Available in 3 different sizes - See price chart below
Usually ships in 4-5 business days
1 • HAWAIIAN LANDSCAPE & FLOWER PHOTOGRAPHY
---