PEGGY CHUN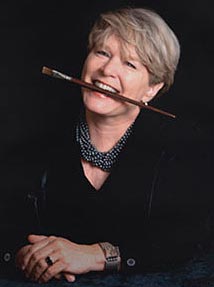 Peggy Chun is known in Hawaii for her beautiful and often whimsical artwork. Her work can be found in both private and corporate collections across the globe. This watercolor artist, who lived the last years of her life paralyzed by ALS, or Lou Gehrig's Disease, captured the "spirit of aloha" in her paintings and thrived on sharing her love of the islands (and life!) with the world. Even through her six-year battle with ALS, Peggy continued to live a full and creative life, inspiring those around her with her courage, passion, and sense of humor in the face of adversity.
Born in Lawton, Oklahoma, Peggy was a resident of Hawaii since 1969. Throughout her career, Peggy worked primarily in watercolor, but also explored a variety of media over the years, including acrylic, oil, pastel, photography, and collage. In 2002, Peggy was diagnosed with ALS, also known as Lou Gehrig's Disease; the same disease that took her twin sister, their mother, and grandfather. Bobbie, her sister who passed away in 1987, was a well-established artist herself and was the inspiration for Peggy to pick up her first paintbrush in 1989.
Currently, there is no known cure for ALS. But this debilitating motor neuron disease never slowed Peggy down, nor did it slow her creativity. In 2003, Peggy's lungs weakened and she was placed on a ventilator. That same year, she lost use of her right hand. Peggy simply painted with her left. In 2004, a weakened left hand sent the paintbrush to her teeth. And when Peggy lost the use of her jaw muscles in 2005, she used a computer system called ERICA to digitally paint images using her eye movement. Look carefully next to Peggy's signature on some of her prints. You will see a tiny "LH" for those images she created using her left hand and you will see a "T" next to her name on those she painted with her teeth.
Peggy spent the last three years of her life fully paralyzed, using a spell board to spell words out with her eye movement, letter-by-letter. She spent her time directing art projects, critiquing artwork, and spelling out her many artistic visions. She passed away peacefully in her home in November 2008, surrounded by her beloved friends, family, and famed group of caregivers, the "Peg's Legs".
Peggy's playful spirit, generous heart, inspiring courage, and "larger than life" presence will forever live on in our hearts. For Peggy, creating was living. "After all," she said, "you don't paint with your hands, you paint with your heart."
Please contact bernard@islandartcards.com or call 1-800-222-7327 with any enquiries.
Limited Edition Giclée Art Prints
by Peggy Chun
Available in Watercolor Paper or Cotton Canvas
Usually ships in 5 to 10 business days
The limited editions, typically edition quantities of 250, are numbered, stamped, and come with a certificate of authenticity.
Our giclées are printed with fade resistant, pigmented inks using a 12 color printing process on a Roland D'vinci Fine Art Printing System.
They are all printed on top quality 350 gsm watercolor paper or cotton canvas.
---