STEVE SUNDRAM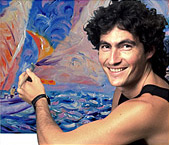 Born in Australia in 1963, Steve now lives in Maui, where he thrives in the abundant tropical life of the Islands. It is a place of continual inspiration to him, and his magical works have featured on many gifts and products such as calendars, cards, puzzles and stationery produced in Hawaii and distributed around the globe.
Steve has always been deeply moved by the power and fragility of Nature which is so vividly alive in Hawaii, and has focused on depicting the marvelous flora & fauna found only in these islands.
His original paintings are among the collections of celebrities such as Kim Basinger, Whoopi Goldberg, Jack Klugman and Carlos Santana. Steve continues to expand his palette of styles, exploring impressionistic, photo-realistic, fantasy and abstract works.
STATEMENT
Painting is an enthralling exploration. I find the greatest joy in those moments when what I am painting mysteriously comes to life on the canvas before me, and begins to communicate back to me.
The more I recognize and enjoy all of her beauties, the greater my desire to cherish and protect Nature. I trust that my art will in some way put you in touch with your own intimate love of Earth's exquisite treasures.
— Steve Sundram
Please contact bernard@islandartcards.com or call 1-800-222-7327 with any enquiries.
Giclée Fine Art Prints
by Steve Sundram
Printed on Archival Somerset Velvet 100% Cotton Mould-made Paper or Canvas
Usually ships in 5 to 10 business days
Available in 2 different sizes and 2 different media types - See price chart below
---