Giclée Art Prints & Posters
---
Chicago, Illinois USA - The Windy City, Sailboats, Lake Michigan - American Airlines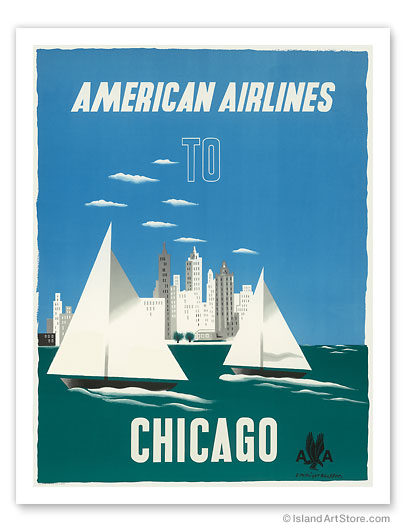 DISPLAYING: 11" x 14" Giclée Art Print

Edward McKnight-Kauffer (1910-1954)
Edward McKnight-Kauffer was born in 1890, in Great Falls, Montana. By 1910 he had moved to San Francisco working as a bookseller and studying art at the California School of Design. At around this time Professor Joseph McKnight of the University of Utah became aware of Kauffer's work, sponsored him and paid to send him to Paris for further study. In gratitude Kauffer took his sponsor's name as a middle name.
He arrived in Paris in 1913 and studied at the Académie Moderne until 1914. Kauffer moved to London upon the start of the 1st World War, and he remained there for most of his career. Kauffer may be best known for the 140 posters that he produced for London Underground, and later London Transport. He created posters for Shell Oil and other commercial clients, and also illustrated books and book covers. He returned to New York City in 1940 at the beginning of the 2nd World War and tried to find work in advertising. He struggled in the more competitive atmosphere until he was approached to do a series of posters for American Airlines in 1947. American Airlines remained his primary client until his death in 1954.
---