---
Dusk Glow
by G. Brad Lewis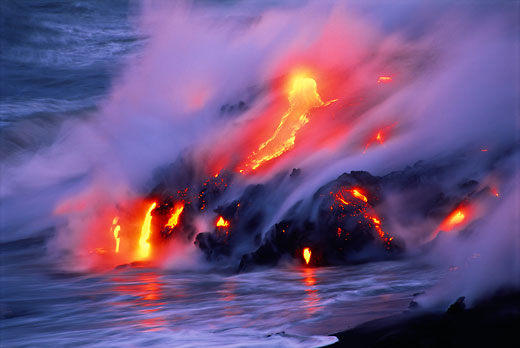 © G. Brad Lewis Photography. All rights reserved.
Usually ships in 7 to 10 business days

Metal prints represent a new art medium for preserving photos by infusing dyes directly into specially coated aluminum sheets. Because the image is infused into the surface and not on it, the image takes on an almost magical luminescence. You've never seen a more brilliant and impressive print! Colors are vibrant and the luminescence is breathtaking.

Artist Bio
G. Brad Lewis is internationally recognized as a leading volcano and nature photographer. His volcano images have appeared on the covers of a number of magazines, including Life, Natural History, Photographer's Forum, and Geo, and within the pages of Time, Outside, Fortune, Newsweek, Stern, National Geographic, and many other publications. Additionally, Brad's lava and erupting volcano pictures have received numerous awards and been widely exhibited. Interviews with Brad have been broadcast on the NBC Today Show, CBS Evening News, and the Discovery Channel's, "How'd They Do That?" Print interviews and photo essays of his volcano lava photographs have been featured in many magazines, including Photo District News, DigitalFoto, Studio Photography & Design, and Outdoor Photographer. His photographs are found in numerous private, corporate, and public collections around the world, as well as in fine galleries and through major stock agencies. Inspired by beauty and variety, Brad is based out of Hawaii, Utah, and Alaska, traveling several months each year to pursue his art.

Artist statement
"The goal of my photography is to connect the viewer to a deep understanding and appreciation of the natural world. In my "LavArt" series of images, I utilize the movement, light, and texture of the world's most active volcano, to open human emotions to the pulse the planet."
---