Fine Art Prints & Posters
---
Hawaiian Native Girl - A Young Woman of the Sandwich Islands
John Webber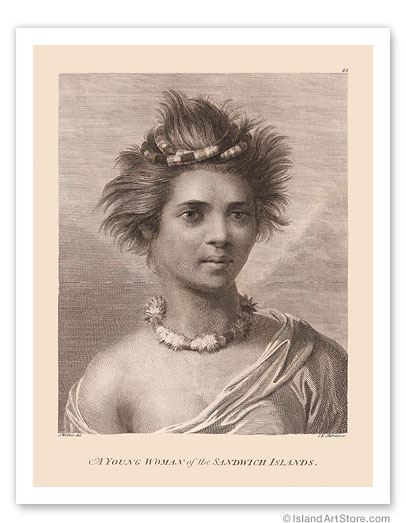 DISPLAYING: 11" x 14" Fine Art Print

Hawaiian Native Girl - A Young Woman of the Sandwich Islands - from James Cook, Voyage to the Pacific (1784)

John Webber (London, 6 October 1751 - 29 May 1793 London)
John Webber was an English artist who accompanied Captain Cook on his third Pacific expedition. He is best known for his images of Australasia, Hawaii and Alaska.
Webber was born in London, educated in Bern and studied painting at Paris. Webber served as official artist on James Cook's third voyage of discovery around the Pacific and the South Sea Islands (1776-80) aboard HMS Resolution. He also did many drawings of scenes in New Zealand and the South Sea islands. On this voyage, during which Cook lost his life in a fight in Hawaii, Webber became the first European artist to make contact with Hawaii, then called the Sandwich Islands. He made numerous watercolor landscapes of the islands of Kauai and Hawaii, and also portrayed many of the Hawaiian people.
---