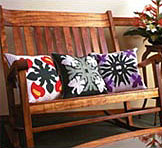 Our most popular items are our Pillow Slips. Each Pillow slip is handquilted and hand applique', corded with a flange and labeled with the "Kenui Quilt" label of excellence!

Made of a high quality fabric, caring for your Pillow Slip is simple and easy, just cold water wash and line dry. These beautiful Pillow Slips can also be framed for a dramatic wall decoration.

Any pattern can be custom made and personalized to suit your unique style... at no extra cost! We do have quilts in stock but most of the pillow slips shown have to be special ordered. A Pillow Slip special order takes about 30 days to complete.