Vintage Style Travel Posters Collection
Kerne Erickson
---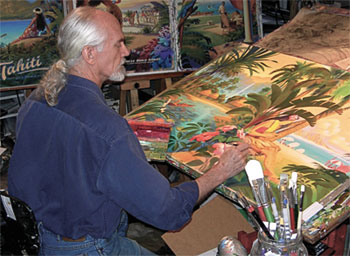 For over 30 years, award-winning artist Kerne Erickson's retro-style travel posters have been taking viewers 'on location' to popular destinations around the globe.
Inspired by vintage vacation photos, brochures and other graphics, his depictions are painstakingly researched and meticulously depicted for historical accuracy as well as irresistible nostalgia.
At a time when sterile, computer-generated art has become popular, it's refreshing to see an artist like Kerne who can work his way from a well composed pencil drawing, through transparent layers of under painting, building depth and tonality until finally adding the finishing touches that bring the work into focus.
His work is a perfect blend of traditional technique and modern painting mediums. Erickson, a graduate of Los Angeles Art Center College, worked for years as a freelance graphic artist on client commissions which served to develop his distinctive style.
He is now a freelance artist working at his home in Orange County, California where he lives with his family
---
CATEGORIES:
View All Collections
---