Fine Art Prints & Posters
---
Hawaiiana - Topless Nude Hawaiian Woman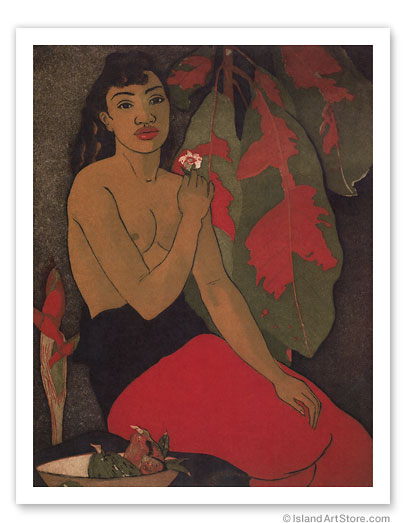 DISPLAYING: 11" x 14" Fine Art Print

Hawaiiana - Topless Nude Hawaiian Woman in front of Colorful Croton Leaves (Codiaeum variegatum)

John Melville Kelly (1879-1962)
John Melville Kelly was an American painter and printmaker. He was born in Oakland, California in 1879. He studied art at the Mark Hopkins Institute of Art (San Francisco), and at the Partington Art School (San Francisco).
Kelly worked for fourteen years as an illustrator for the San Francisco Examiner before he and his wife, the sculptor Kate Kelly, went to Hawaii in 1923. Their plan was to stay a year and work for an advertising agency creating material to promote tourism. They fell in love with the islands,and it's people, and stayed permanently.
John's ravishing depictions of Polynesians was, in fact, what distinguished him from other artists in Hawaii at the time. The Kellys immediately identified with the native Hawaiians and became their champions in images and in print. John produced etchings and aquatints, primarily of human figures, though he occasionally did landscapes as well. John Melville Kelly died in Honolulu in 1962.
---