Fine Art Prints & Posters
---
Nouvelle Calédonie (New Caledonia) - TAI Airline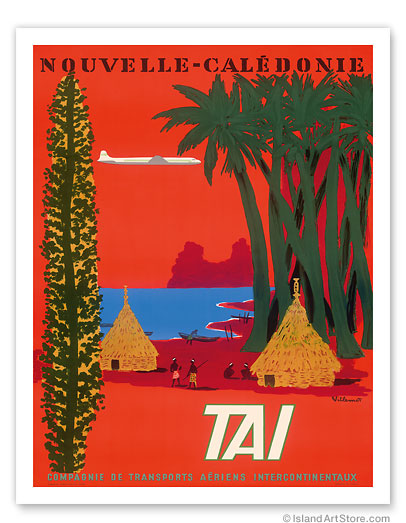 DISPLAYING: 11" x 14" Fine Art Print

Native Kanak People Grand Huts - Transports Aériens Intercontinenteaux

Bernard Villemot (1911-1989)
Bernard Villemot was a French graphic artist known primarily for his iconic advertising images for Air France, Bally Shoes, Perrier and Orangina. He was known for a sharp vision that was influenced by photography and for his ability to distill an advertising message to a memorable image with simple, elegant lines and bold colors. From 1932-1934 he studied with artist Paul Colin (himself a poster artist) who was considered a master of Art Deco. By the end of his life Villemot was known as one of the last great poster artists and many collectors and critics consider him to be the "painter-laureate of modern commercial art". Since his death in 1989, his memorable images have been sought after by collectors. At least two books have been published that survey his artistic career: "Les affiches de Villemot" (1985) and "Villemot: l'affiche de A-Z" (2005).
---