Fine Art Prints & Posters
---
Paris - Discover France by Train - La Rive Gauche (Left Bank of the Seine River) - Montparnasse - French National Railroads
André Planson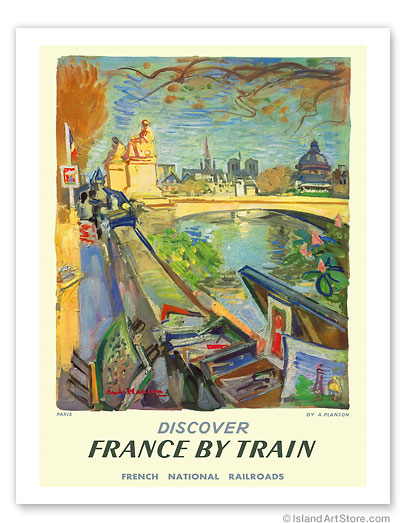 DISPLAYING: 11" x 14" Fine Art Print

ANDRÉ PLANSON (1898-1981)
André Planson was born on 10 April 1898 in La Ferté-sous-Jouarre, a small town on the Marne River. After completing his studies at the grammar school in Meaux, he received tuition from the landscape painter Paul Meslé who lived in Champigny, close to Ferté. After that, he went to Paris where he sometimes attended classes at the Académie Ranson.
In 1933, Planson was awarded the Prix Blumenthal. Since then, all his paintings are watched with interest by a constantly growing circle of amateurs. The government puts the painter in charge of important assignments, in particular for the Lycée Janson de Sailly (1934), for the Théātre du Palais de Chaillot (1937), for the Institut Agronomique de France and for the Enghien grammar school. In his studio in Paris, the artist transposed very naturally the atmosphere of the works of Couperin and Debussy, whom he admires, in great compositions in oil or in quick watercolor studies. His affinity to music and his amused curiosity for all spectacles of the capital are in equal measures the reason why he, like Degas and Forain before him, can often be found in the loges of the Opéra Comique or behind the stage of a vaudeville show in order to sketch the ballet troupe in full action orthe dancers at respite, certain masks and costumes, Harlequin and Colombine, a diva powdering before the mirror of her loge or Colette Renard in her song recital. After being a professor at the Académie Julian for fifteen years, he was elected member of the Institut de France in 1960. But more than the attraction of Paris, the profound ties to his native land was what really counted in Planson's life. He always returned to the small town of Ferté and its surroundings where he painted deftly and untiringly the corn fields and the windings of the Marne River with the fishermen, the boatsmen, the restaurants full of with shapely pretty girls whose sinuous figures, half youthful and half animal, are in accord with the curves of the foliage and the reflections of the light.
André Planson died on 30 September 1981 in the American Hospital in Neuilly.
---