Fine Art Prints & Posters
---
World Map Planisphere - Aviation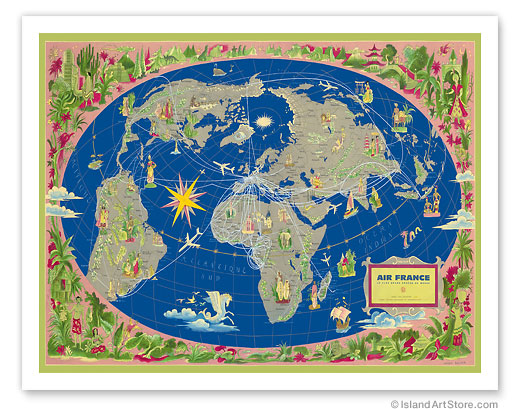 DISPLAYING: 11" x 14" Fine Art Print

Le Plus Grand Réseau du Monde (The Biggest Network of the World) Planisphere

Lucien Boucher (1889-1971)
Lucien Boucher launched his design career at the Ceramique de Sevres and made his debut at the Salon d'Automne in 1921, becoming a member in 1923: he also exhibited at the Salon de L'Araignée from 1924-1930. Besides lithographs, Boucher also created wood engravings and drawings in water color. Beginning around 1935, Boucher designed an impressive series of posters for an aviation company that he continued producing until he was well into his seventies. Boucher is known mainly for his absorbing aviation poster designs; known as "Monsieur Planisphere" (planispheres are flattened representation of planet earth) he created a variety of illustrated World Maps that depicted the global flight routes serviced by the airline.
---