Harry Rogers Collection
---
Artists Biographies
Harry Rogers (1929-2012)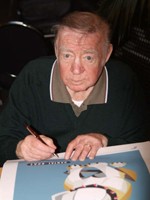 Australian born poster artist Harry Rogers enjoyed a long and productive association with Qantas, designing the Qantas logo-font in the mid-1960s.
He also devised a variety of poster series from the 1950s through to the 1970s which promoted Qantas as Australia's premier international airline.
He created a different 'look' for each series by devising different techniques– cut paper and collage, geometric shapes, lively watercolor illustrations; his heroic animated animal portraits typical for travel destinations served by the carrier being the most famous and highly collectible poster series.
As a freelancer, Harry also worked for other clients including Avon, Blue Circle Southern Cement, Coca Cola, Colgate-Palmolive, and Kimberly-Clarke.
---