Rene Gruau Collection
---
Artists Biographies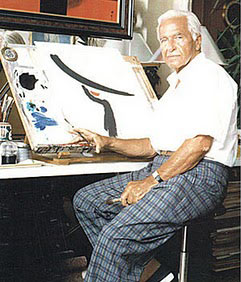 René Gruau, (1909-2004)
René Gruau was born Renato Zavagli in Rimini Italy on February 4, 1909, son of an Italian count, and a French mother. He used his mothers maiden name as his "nom de plume" (artist's name).
He was a one of the most important graphic designers during the second part of the 20th Century. Designing posters for the Lido and Moulin Rouge in Paris and for large advertisers like Air France, Cinzano and Vichy mineral water. He also created designs for Harper's Bazaar, Vogue, Elle, Le Figaro Madame and other journals of the time.
In 1947, Christian Dior invited Gruau to work for Dior , an association that continued until the end of his life.
In the World of graphic art, Gruau is one of the most collectable artists of the last 50 years.
---