Fine Art Prints & Posters
---
Ambassadeurs: Aristide Bruant dans son Cabaret (Ambassadors in his Cabaret) - Art Nouveau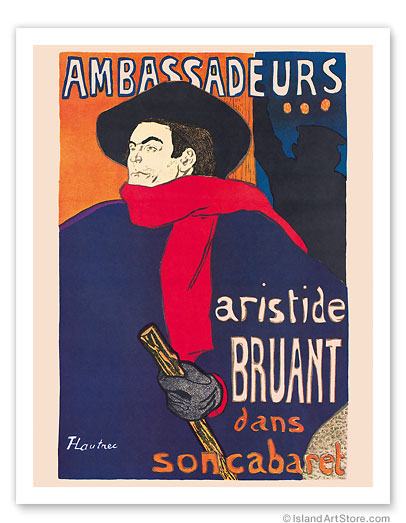 DISPLAYING: 11" x 14" Fine Art Print

Art Nouveau - La Belle Époque - "Les Maitres de l'Affiche"- Art Deco - Vintage Advertising Poster

HENRI de TOULOUSE-LAUTREC (1864 - 1901)
He was a French painter, printmaker, draughtsman and illustrator whose immersion in the colorful and theatrical life of Paris in the late 1800s yielded a collection of exciting, elegant and provocative images of the modern and sometimes decadent life of those times. He was drawn to Montmartre, the area of Paris famous for its bohemian lifestyle and the haunt of artists, writers, and philosophers. Toulouse-Lautrec - along with Cézanne, Van Gogh and Gauguin - is among the most well-known painters of the Post-Impressionist period. In a 2005 auction at Christie's auction house, a new record was set when "La Blanchisseuse", an early painting of a young laundress, sold for US$22.4 million.
He excelled at depicting people in their working environments, with the colour and movement of the gaudy night-life present but the glamour stripped away, and was masterful when painting crowd scenes in which the figures are highly individualized. His style was influenced by the classical Japanese woodprints which became popular in art circles in Paris. An alcoholic for most of his adult life, Toulouse-Lautrec was placed in a sanatorium shortly before his death.
---