Fine Art Prints & Posters
---
Atlantique Pacifique Méditerranée (Atlantic Pacific Mediterranean) - Compagnie Générale Transatlantique - French Line Flag
Vintage Cruise Ship Poster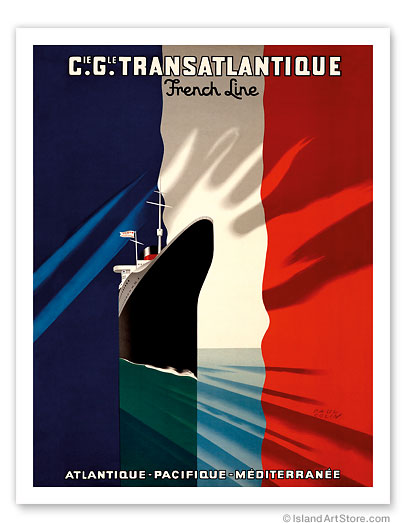 DISPLAYING: 11" x 14" Fine Art Print

PAUL COLIN (1892-1986)
He was one of France's greatest poster artists.
Made famous in 1925 by his poster for the Revue Nègre, which helped to launch the career of Josephine Baker (who became his mistress), he worked for over forty years in the theatre, creating not only posters but also numerous sets and costumes.
Very Art déco at the outset, (his Le Tumulte noir is a masterpiece of the genre), his style quickly became highly personal and impossible to categorize: the synthetic accuracy of his portraits, the evocative force of his posters for grand causes so marked him as a master of visual communication that his work today remains relevant and fresh. A student of Eugène Vallin and of Victor Prouvé, he is considered a master of the modern school of poster art. He is the author of over 1400 posters and many theatrical set and costume designs.
---