Fine Art Prints & Posters
---
Château d'Azay-le-Rideau - Loire Valley, France - Railways Poster
Léon Constant-Duval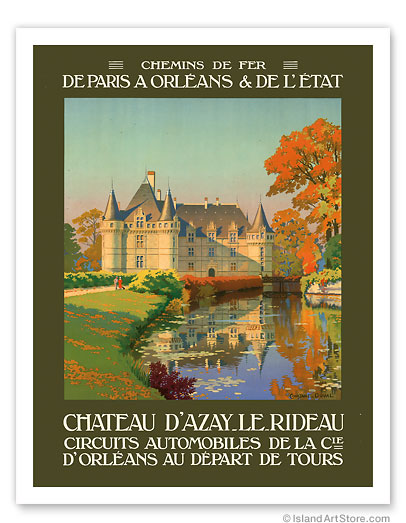 DISPLAYING: 11" x 14" Fine Art Print

Chemins De Fer De Paris á Orléans et De L'Etat (Railways of Paris to Orléans & The State)
Circuits Automobiles de la Cie D'Orléans au Départ de Tours

Constant Duval (1877-1956)
Constant (Leon) Duval, was a prolific poster artist who worked mainly for the French railway companies. From 1910 until 1936 he produced many illustrated posters published by the Railways of Orleans, Alsace and Lorraine, the Tunisian Government Office, various Tourism Offices and Healing Spas.
He painted sites and monuments in Brittany, Normandy (Mont Saint-Michel), the castles of the Loire, views of the Auvergne, Quercy, the Pyrenees etc. The posters of Constant Duval carry the mark of the painter who creates beautiful images to encourage travel and the discovery of less known places in France as well as abroad.
---