Fine Art Prints & Posters
---
Flying Airplane - Dans Tous Les Ciels (In All the Skies)
Roger de Valerio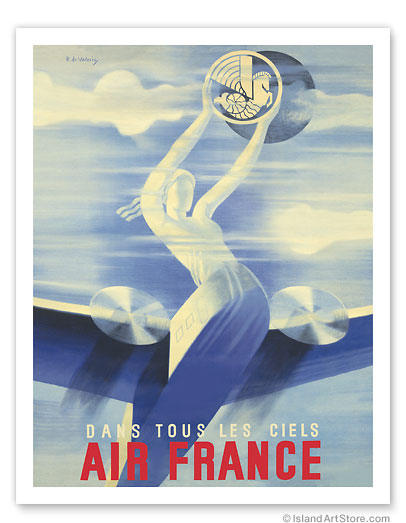 DISPLAYING: 11" x 14" Fine Art Print

Roger de Valerio (1896-1951) whose real name Roger Laviron, was a French designer, poster designer and painter, and was particularly known for his advertising posters.
Roger Valerio made studies of architecture at the School of Fine Arts in Paris. From 1911 to 1914 he worked as artistic director at the newspaper Le Matin. From 1917 to 1924, he joined the music publisher Durand for which he produced more than 2,000 blankets. In 1926 he was artistic consultant at Devambez for which he produced some beautiful full color posters and in 1932 he became head of the newspaper Le Rire. From 1936 to 1940 he was Associate Director of Perceval Editions. In 1933 he taught at the technical school of advertising.
In 1940, he decided to retire to Belle Île to devote himself to painting (mostly nudes and flowers), and the book illustration. It carries 19 prints for The Surmâle of Alfred Jarry. In 1951 he illustrated The Lion and the Hen Sacha Guitry in publishing Raoul Solar (engraving by André Jadoux).
For the magazine L'Art vivant , in October 1926, he said "The first quality of a poster is to be seen and read. All means are good, the end justifies the means "
---