Fine Art Prints & Posters
---
Germany - German Castle and Beer Mug
Jacques Nathan-Garamond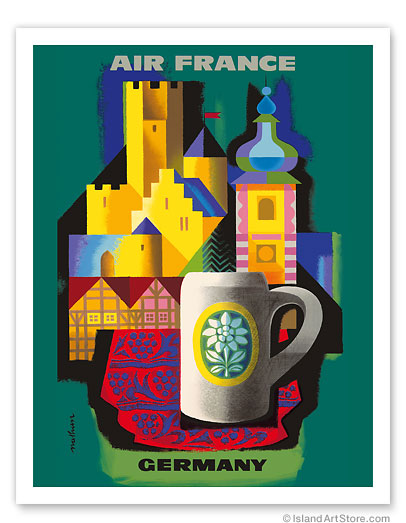 DISPLAYING: 11" x 14" Fine Art Print

JACQUES NATHAN-GARAMOND (1910-2001)
was an internationally active French graphic designer, illustrator and painter . He was especially known for his poster designs. After the Second World War, he settled as a graphic designer and did all kinds of work such as poster designs advertisements, illustrations and design of catalogs. One of his most important works is the poster for an exhibition on human rights from the year 1949. He was commissioned to design for companies and brands such as Mazda , Ducretet-Thomson , a french aviation company, and Telefunken.
In 1952 he became co-founder of the Alliance Graphique Internationale , AGI. In 1964, he was invited to participate at the Documenta III, one of the world's prime art exhibitions in Kassel, Germany. Late in life he devoted himself mainly to painting.
---