Fine Art Prints & Posters
---
Germany Wants to See You - Berlin - French Church of Friedrichstadt, Berlin Concert Hall
Friedel Dzubas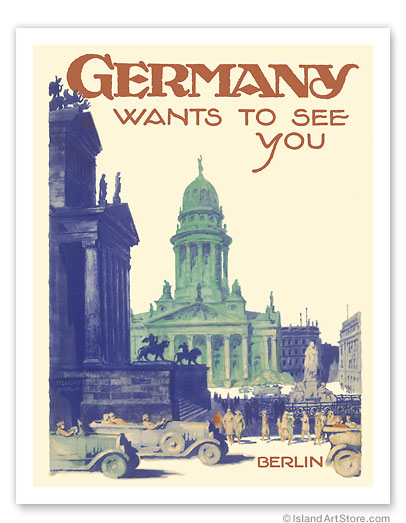 DISPLAYING: 11" x 14" Fine Art Print

French Church of Friedrichstadt, Berlin Concert Hall - Gendarmenmarkt - German Railroads

FRIEDEL DZUBAS (1915-1994)
An émigré to New York from Berlin during the rise of European fascism, Friedel Dzubas brought to American painting a dynamic vision of pictorial space shaped by his early exposure to German historical fine art and decorative painting. Later in life, Dzubas expanded his points of reference to include Italian painters from Giotto to Tiepolo. Dzubas's large-scale, luminous, and viscerally charged canvases are among the most stunning and dramatic of any created from the 1940s to the early 1980s in North America. With works in many important private collections and museums and with contemporary exposure in a variety of exhibition venues shared with artists such as Helen Frankenthaler, Jackson Pollock, Adolph Gottlieb, Morris Louis, Jules Olitski, Kenneth Noland, and Jack Bush, Dzubas's art was significant for the emerging critical and artistic dialogue of his time.
---