Fine Art Prints & Posters
---
Hawaiian Gardenia (Nanu)
Ted Mundorff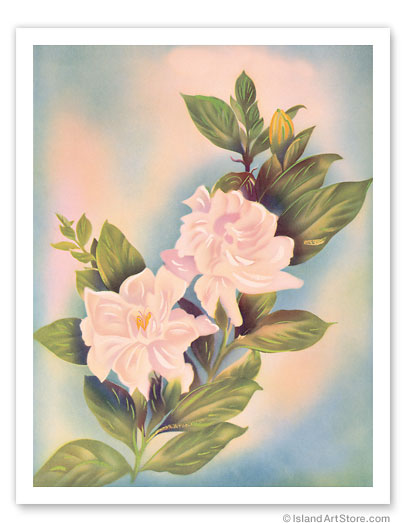 DISPLAYING: 11" x 14" Fine Art Print

Ted Mundorff (1910-1969)
Born in Pennsylvania in 1910, Ted Mundorff traveled as a child to Hawaii, where he was educated at the prestigious private school of Punahou in Honolulu. Upon graduation, he returned to the mainland and painted cars for the Ford Motor Company in Detroit, before moving to Los Angeles, where he designed greeting cards for Hallmark.
Returning to Hawaii in 1936, he started a career as painter, illustrator, and cartoonist, eventually opening his "Hawaiian Pallet" studio in Honolulu.
Mundorff earned respect as an artist whose interpretations of local tropical flowers are as popular today as they were at the time of their creation. Like so many talents of the time, he employed the then new and revolutionary airbrush technique to achieve the soft blends and beautiful tonal shading that medium affords.
Ted Mundorff died in November 1969, leaving a legacy of romantic botanical studies that are eagerly sought after today by a new generation of collectors.
---