Fine Art Prints & Posters
---
Kraków, Polska (Kracow, Poland) - Polskie Koleje Państwowe (Polish State Railways) - King Stefan Bathory
Zygmunt Kamiński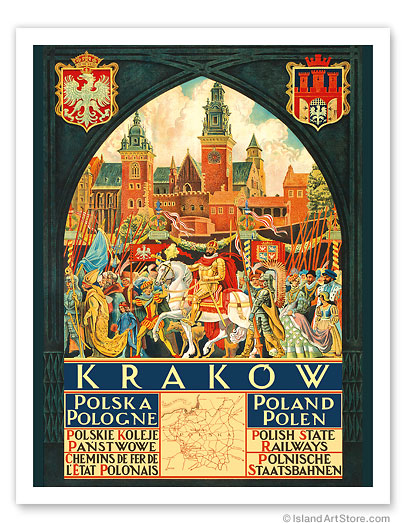 DISPLAYING: 11" x 14" Fine Art Print

Zygmunt Kaminski (1888-1969)

Polish graphic artist, painter, educator, professor at the Faculty of Architecture at Warsaw University of Technology. The creator of the current Coat of Arms emblem of Polish Republic.
As a student of Government Junior Secondary School V enrolled in evening courses in drawing at the Museum of Industry and Agriculture, and then at the Warsaw School of Fine Arts, he studied with Konrad Krzyzanowski and Ferdinand Ruszczyca.
Studies at the Krakow Academy of Fine Arts under Prof. Mehoffer ends with a silver medal. Education in Paris in the private academies (Académie Ranson and Grande Chaumiere). Paris studio in the time period of the great breakthrough in French art. Zygmunt Kaminski watches and learns the Parisian trends, but ultimately remains faithful Polish national art.
---