Fine Art Prints & Posters
---
La Riviera Italienne (The Italian Riviera) - Portofino, Italy - Près de S. Margherita et Rapallo
Mario Borgoni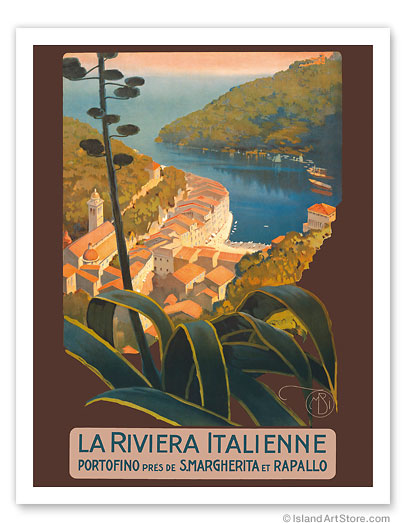 DISPLAYING: 11" x 14" Fine Art Print

The Italian Riviera - Portofino, Italy - Near Santa Margherita and Rapallo

MARIO BORGONI (1869-1936) was a young Italian artist who had been born in 1869 in Pesaro (on the eastern coast of Italy) and studied at the Neapolitan Art Institute, where he later taught Ornament for many years, was an early practitioner of the fresh new style. As his pairs at the then revolutionary Italian Liberty Movement he had such gifted graphic artists as Giovanni Mataloni and, especially, the German immigrant Adolfo Hohenstein.
Around 1900 he started freelancing for the Neapolitan printer Richter & C, becoming its artistic director around 1906. In his posters for Richter, Borgoni often used a particular Liberty design solution by which he separated the image in two parts: i) a sort of dark cursive frame in the foreground, that often included the lettering and, at times, an observer a scene as viewed from the window thus formed.
That style, as applied to hotel labels by him or other artists under his direction, became a sort of trademark of Richter & C that was widely imitated and upon which rested the company's worldwide success as a supplier of labels to the hotel trade.
Mario Borgoni made a career as a bona-fide artist and painter-decorator, but experts say that his art lacks depth. Whatever they may mean by that, it is undeniable that he was a superior draughtsman of the human figure and is justly remembered for his sensuous treatment of women in some of his best poster work. He has probably designed many labels early in his career but soon he concentrated on posters, some of which were reduced for use as labels. These often carry his monogram (the letters "Mbi" in a circle).
---