Fine Art Prints & Posters
---
London - River Thames - SAS Scandinavian Airlines System
Otto Nielsen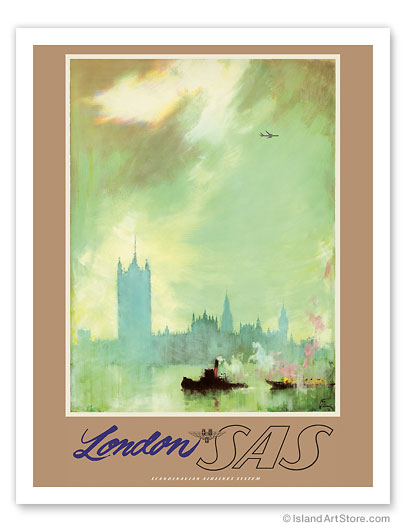 DISPLAYING: 11" x 14" Fine Art Print

Otto Nielsen (1916-2000) Danish artist who produced many posters for SAS (Scandinavian Airlines System). In the 1960's Otto Nielsen promoted the romance and excitement of faraway lands with his series of posters for the Danish airline SAS. Nielsen was a watercolor painter who when tasked with this graphic challenge, came up with the clever idea of depicting animals traveling two by two to exotic destinations.
Otto Nielsen, was born in Aarhus, Denmark where he was educated at Gustavus Bach's Character College in 1934-35. He loved to travel, and he started work with the airline DDL in 1946 prior to moving to SAS airlines, his work was reproduced on SAS calendars and travel posters from 1954 to 1976.
He wrote and illustrated many books,including travel books. In 1973 and 1993 he made posters for the Tivoli Gardens. Otto Nielsen's artwork has been exhibited in many museums. In addition Otto Nielsen's works are represented at the Museum of Decorative Art, the Museum of Danish cartoonists, Danish Revy Museum, Danish Poster Museum, Arts Museum, the Moderna Museet and Bryn Artiyn Library in Pennsylvania.
---