Giclée Art Prints & Posters
---
Los Angeles - Hollywood, California - American Airlines
Fred Ludekens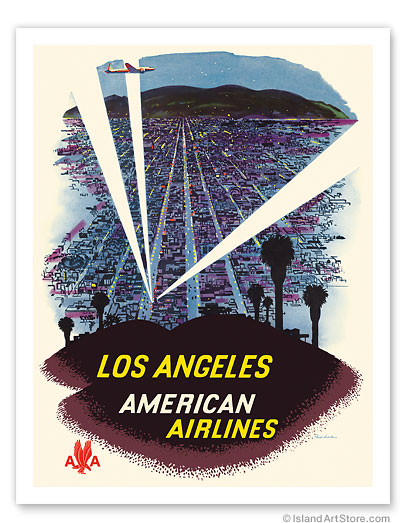 DISPLAYING: 11" x 14" Giclée Art Print

Fred Ludekens (1900-1982)
Illustrator, painter. Born in Hueneme, CA on May 13, 1900, Ludekens grew up in California and worked on fishing boats along the West Coast. At age 20 he settled in San Francisco and, as a self-taught artist, began as a billboard painter for Foster and Kleiser. In 1931 he joined the advertising firm of Lord & Thomas, transferring to their New York office in 1939. While in New York, his illustrations appeared in Saturday Evening Post and other national magazines. Returning to San Francisco in 1945, Ludekens remained there until his death on March 20, 1982. Working in all media, He worked in advertising, designed airline posters for American Airlines; his subject matters included fruit ranches, coastal scenes, and the Indians of the Southwest.

Source: Edan Hughes, "Artists in California, 1786-1940"
---