Fine Art Prints & Posters
---
New and Old - Nova Et Vetera (The Old and the New) - World Route Map - Planisphere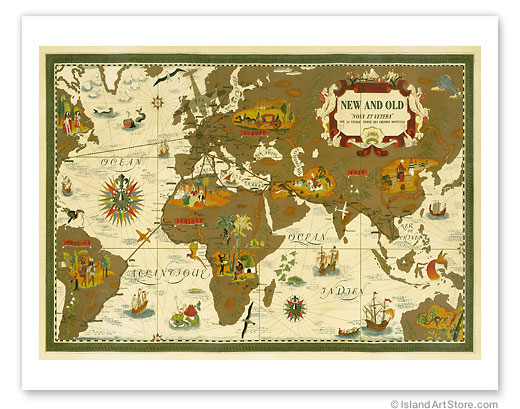 DISPLAYING: 11" x 14" Fine Art Print

New and Old - Nova Et Vetera (The Old and the New) - Sur la Vieille Terre des Chemins Nouveaux (On the Old Earth New Paths)

Lucien Boucher (1889-1971)
Lucien Boucher launched his design career at the Ceramique de Sevres and made his debut at the Salon d'Automne in 1921, becoming a member in 1923: he also exhibited at the Salon de L'Araignée from 1924-1930. Besides lithographs, Boucher also created wood engravings and drawings in water color. Beginning around 1935, Boucher designed an impressive series of posters for a french aviation company that he continued producing until he was well into his seventies. Boucher is known mainly for his absorbing a french aviation company poster designs; known as "Monsieur Planisphere" (planispheres are flattened representation of planet earth) he created a variety of illustrated World Maps that depicted the global flight routes serviced by the airline.
---