Giclée Art Prints & Posters
---
Puerto Rico - Endless Summer - American Airlines
Paul Degen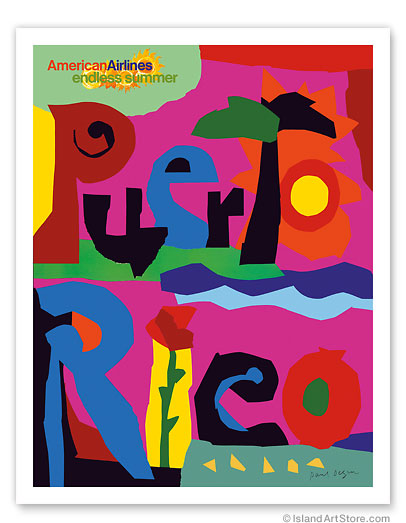 DISPLAYING: 11" x 14" Giclée Art Print

Paul Degen (1941 - 2007) was a Swiss illustrator, caricaturist, painter and sculptor.
Paul Degen was born on 24 March 1941 in Basel, Switzerland. After his education as a lithographer in Basel and graduation from the Kunstschule Basel (Basel College of Commercial Art), Degen continued his education at the graphic design studio of Theo Ballmer and at the Académie Julian in Paris. In the 1960s Degen worked as a freelance graphic designer and illustrator with Herbert Leupin, Celestino Piatti, and Fritz Bühler at the Atelier Eidenbenz in Switzerland.
In 1970 he moved to New York and worked, besides freelancing as a cartoonist and illustrator for The New York Times, Esquire, Harper's Magazine and The Atlantic Monthly, at the Push Pin Studios with Milton Glaser and Seymour Chwast. He also produced posters for several airlines, notably American Airlines.
After living in Brasil, Peru, Hawaii, Bali, and his return to New York at the end of the 1988, Degen moved back to Liestal near Basel in 1990. Paul Degen died on May 30, 2007.
---