Fine Art Prints & Posters
---
The Great Raymond - Master of Miracles - c. 1920
Vintage Magic Poster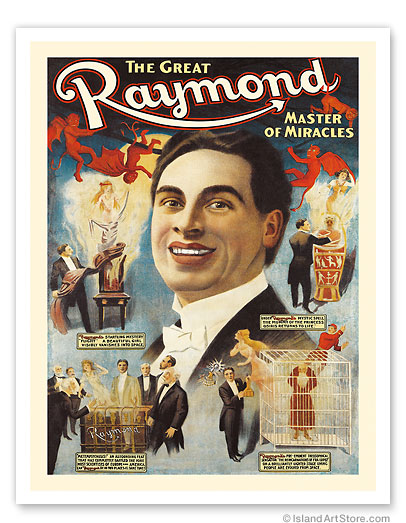 DISPLAYING: 11" x 14" Fine Art Print

The Great Raymond
Master of Miracles
Raymond's startling mystery "flight" a beautiful girl visibly vanishes into space
Under Raymond's mystic spell the mummy of the Princess Osiris returns to life
"Metempsychosis" an astounding feat that has completely baffled the foremost scientists of Europe and America. Can Raymond be in two places at the same time?
Raymond's pre-eminent theosophical sensation. "The reincarnations of Fra Lupez" on a brilliantly lighted stage living people are evolved from space.
---