Giclée Art Prints & Posters
---
Virginia - American Airlines - Holiday on Wings - Governor's Palace, Colonial Williamsburg
Bern Hill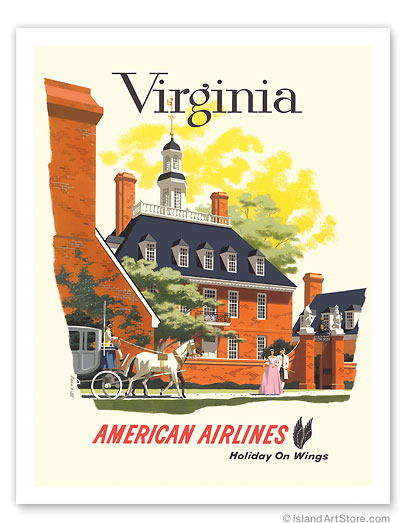 DISPLAYING: 11" x 14" Giclée Art Print

Bern Hill, (1911 Toledo, Canada -1977 Dallas, Texas)
Was a free-lance illustrator and painter, Bern Hill is known for his aesthetically innovative and historically important railroad illustrations and for his regional scene painting of Connecticut where he lived for much of his career. Of him it was written that he had a "running love affair with New England and its 'magnificent architecture.' His clean, precise technique is as cool as a Connecticut morning." (Meehan)
For an illustrator of the mid-20th century, he had a unique style that combined abstraction with realism and challenged viewers with philosophical complexities that were unfamiliar in advertising art.
---