Fine Art Prints & Posters
---
1e. Exposition d'Art Décoratif (1st Exhibition of Decorative Art) - Nude Woman surrounded with flowers
Eugène Samuel Grasset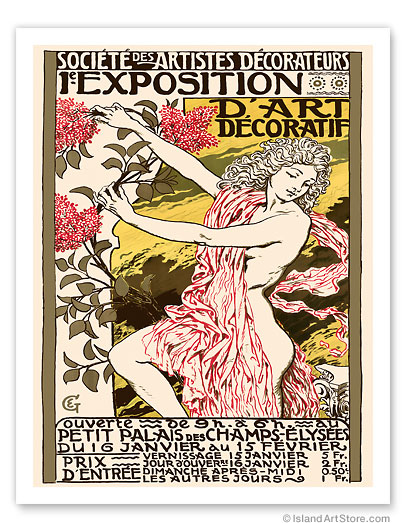 DISPLAYING: 11" x 14" Fine Art Print

Art Nouvelle Poster at the Petit Palais des Champs-Elysees (Champs Elysees Little Palace)

EUGENE SAMUEL GRASSET (1845 - 1917)
Eugène Grasset was a Swiss decorative artist who worked in Paris, France in a variety of creative design fields during the Belle ƒpoque. He is considered a pioneer in Art Nouveau design.
He studied drawing and in 1861 went to Zurich to study architecture. After completing his education, he visited Egypt, an experience that would later be reflected in a number of his poster designs. He became an admirer of Japanese art, which influenced some of his designs. In 1877 Eugène Grasset turned to graphic design, producing income-generating products such as postcards and eventually postage stamps for both France and Switzerland. However, it was poster art that quickly became his forte. Some of his works became part of the "Les Maî tres de l'Affiche" publication including his lithograph, "Jeanne d'Arc Sarah Bernhardt."
With the growing popularity of French posters in the United States, Grasset was soon contacted by several American companies. In the 1880s, he did his first American commission and more success led to his cover design for the 1892 Christmas issue of Harper's Magazine. Grasset's work for U.S. institutions helped pave the way for Art Nouveau to dominate American art. At the Universal Exhibition of 1900 in Paris, the G. Peignot et Fils typefoundry, introduced the "Grasset" typeface, an Italic design Eugne Grasset created in 1898 for use on some of his posters.
---