Fine Art Prints & Posters
---
Hawaiian Duke Kahanamoku and his Brothers with Surfboards at Waikiki Beach, Hawaii
Tai Sing Loo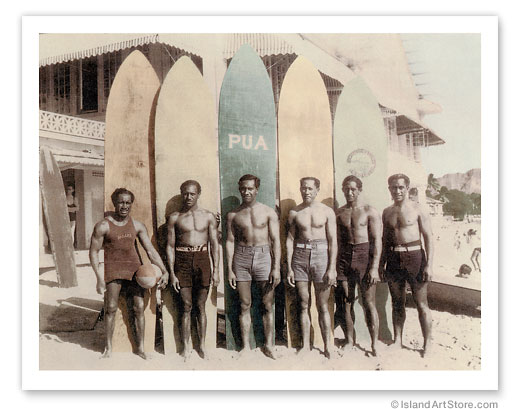 DISPLAYING: 11" x 14" Fine Art Print

TAI SING LOO (1886-1971)
He was a photographer of Pearl Harbor and many sporting events in Hawaii.
From 1919 until his retirement in 1947, he served as an official Navy photographer. In that capacity, he photographed the Pearl Harbor Naval Shipyard and the battleships, and recorded VIP visits and recreational events. He also photographed for the Interisland Steamship Company and was an accomplished landscape photographer. Some of his well-known photographs include many of Duke Kahanamoku, Pearl Harbor before and after the bombing, celebrities and presidential visits to Hawaii. In 1984, the US Navy honored Tai Sing Loo with a calendar chronicling his career. Tai Sing Loo also helped to break the Japanese Codes that were put into false newspaper advertisements that detailed when the attack would occur and the formations of the planes for the attack.
---