Fine Art Prints & Posters
---
Hawaiian Topless Pin Up Girl - They Grow Big Down Here... Coconuts I Say!
Jerry T. N. Thompson - June 1952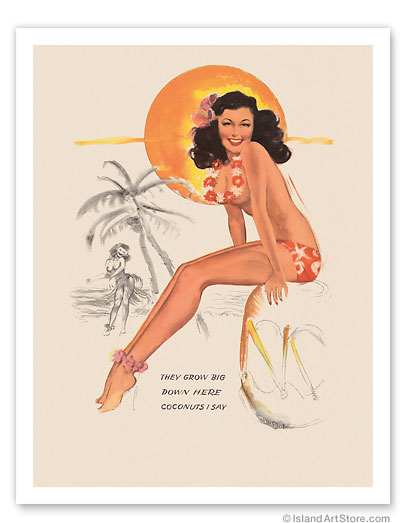 DISPLAYING: 11" x 14" Fine Art Print

Jerry T.N. Thompson
From its initial publication in 1943, the Artists Sketch Pad was a yearly institution in the calendar- publishing business. Originally created by Earl MacPherson for Brown & Bigelow, the calendars' format was adopted by most major pinup publishers for almost twenty years. There were twelve one-sheet pages of pinups, spiral bound along the top of the calendar that featured a central image surrounded by a group of smaller ones.
Around 1948, MacPherson hired an assistant named Jerry Thompson, an accomplished artist who wanted an opportunity to improve his pinups. When MacPherson was stricken with polio late in 1951, Thompson found himself with the responsibility of painting the yearly MacPherson Sketch Book for the Shaw-Barton calendar company. He handled this project until 1958, while also creating a similar calendar for the John Baumgarth Company of Melrose Park Illinois.
Thompson painted both on canvas and illustration board. Unlike Earl MacPherson, he often combined mediums in the same painting, adding pastel, gouache, charcoal, and graphite to his oils. Only about half of his commercial pinups are signed.
---