Fine Art Prints & Posters
---
Remember December 7th! - Japanese Attack on Pearl Harbor
Allen Saalburg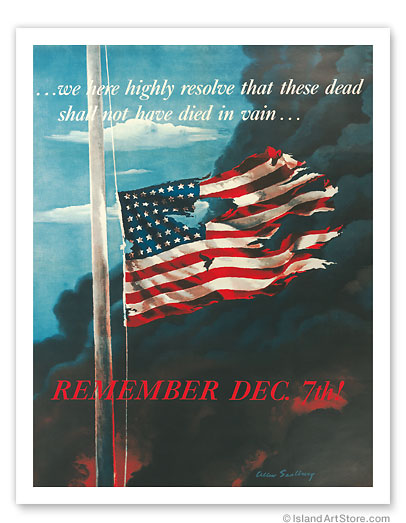 DISPLAYING: 11" x 14" Fine Art Print

In Remembrance of the Japanese Attack on Pearl Harbor, Honolulu, Hawaii - We here highly resolve that these dead shall not have died in vain

ALLEN SAALBURG (1899-1987)
Allen Saalburg began his art career doing freelance work in advertising and magazine illustration. Saalburg worked on murals of traditional and decorative panels for both private and commercial clients during the 1920s. He also spent the 1920s doing illustrations for the covers of Fortune, Saturday Evening Post, and Vanity Fair. His murals hang in the buildings of the Parks Department of New York City, Bloomingdale's in New York City, and in restaurants and hotels throughout eastern United States. In addition, Saalburg designed sets for the 1936 movie "The Green Pastures," and the Broadway production of "Two Bouquets." He exhibited his work throughout the 1930s in New York, and created murals for the Pennsylvania Railroad, the 1939 World's Fair, as well as murals for the S.S. Constitution.. One of his larger projects was "Goods and Gears," a series of paintings and drawings of the early trades of the United States. Saalburg spent many hours in the Bucks County Historical Society and Mercer Museum sketching tools of various trades, homemaking implements and fire fighting equipment. Silk-screen prints were developed from these paintings.
---