Fine Art Prints & Posters
---
Afrique Occidentale - Western Africa - Dugout Canoe Coming from Hunting with a Leopard
Albert Brenet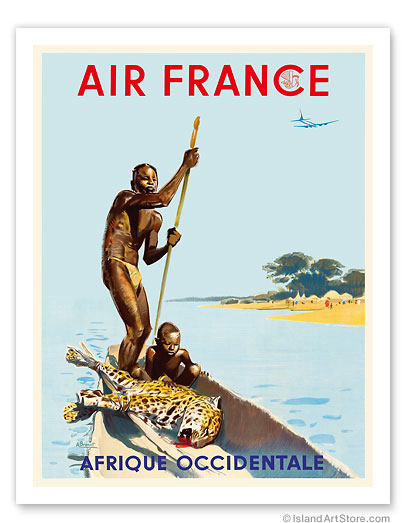 DISPLAYING: 11" x 14" Fine Art Print

ALBERT BRENET (1903-2005) was a painter, poster artist and illustrator.
Originally from the region of Le Havre, he already draws children boats harbor. He studied at the Ecole des Beaux-Arts in Paris in 1920 , but it was his boarding for seven months on one of the last three trading sailing from Le Havre, the Bonchamp, with whom he went to the West Indies, which was decisive for his painting career. He traveled the world's oceans on different ships making sketches, oil paintings, gouaches ships, ports but also scenes of the life of the crews. Author of a prolific work, he is also known for his posters for transatlantic companies. His posters launched maiden voyage liners Normandie in 1935.
Albert Brenet was appointed Navy painter in 1936. With Marin-Marie whom he met in 1931, Roger Rosary and Mathurin Méheut , he is considereds one of the great French marine painters of the twentieth century.
---