Fine Art Prints & Posters
---
This is Alaska - Along Alaska's Sheltered Seas - The Alaska Line - Alaska Steamship Company
Sydney Laurence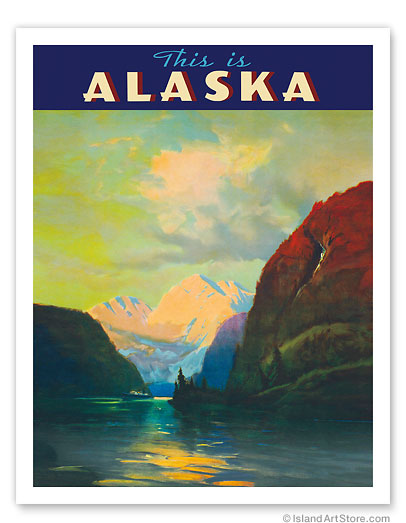 DISPLAYING: 11" x 14" Fine Art Print

SYDNEY LAURENCE (1868-1940)
Sydney Mortimer Laurence is famed for his dramatic landscape paintings of Alaska, as well as his role as one of the first professionally trained artists to live in the Territory. Laurence painted a variety of Alaskan scenes in a long and prolific career, among them sailing ships and steamships in Alaskan waters, totem poles in Southeast Alaska, dramatic headlands and the quiet coves and streams of Cook Inlet, cabins and caches under the northern lights, and Alaska Natives, miners, and trappers engaged in their often solitary lives in the northern wilderness.
The image of the great Mount McKinley, however, became Laurence's trademark. It is this image more than any other that distinguishes him from other famous Alaskan artists. Laurence's paintings were unique in that he would choose landscapes at dawn or dusk, autumn, winter, or spring because the light at those moments was natural but exaggerated. There were rarely any people in the scenes, but more a sense of human beings overwhelmed by nature, defining the image of Alaska as "The Last Frontier." Today, more than 60 years after his death, he is still celebrated as one of Alaska's most beloved artists.
---