Fine Art Prints & Posters
---
Brazil - Carnival in Rio - Pan American World Airways
William Linzee Prescott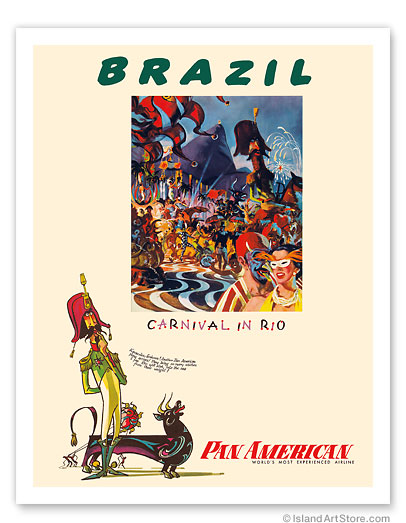 DISPLAYING: 11" x 14" Fine Art Print

The guys says: ¡Caracoles Senhores! Another Pan American planes arrives! They bring so many visitors I fear Rio will sink into the sea from all their weight!


William Linzee Prescott (1917-1981)
Born in New York City, schooled at the prestigious Groton school in Connecticut, Prescott had studied art at the Chouinard School in Los Angeles, then moved to Mexico to study fresco. After a tour of Africa, he held a successful exhibition in New York in 1940 before enlisting.
After leaving the Tuxedo Park home his family occupied with the family of actor Fred Gwynn, Prescott traveled around the world before settling in Ft. Lauderdale, Fla., where he painted as artist in residence at the Swimming Hall of Fame.
His paintings are scattered around the world. Prescott, who prefered his middle name Linzee over his first name William, died in 1981 in Florida at the age of 63.
---