Fine Art Prints & Posters
---
Copenhagen, Denmark - Gay Spot of Europe
Hans Bendix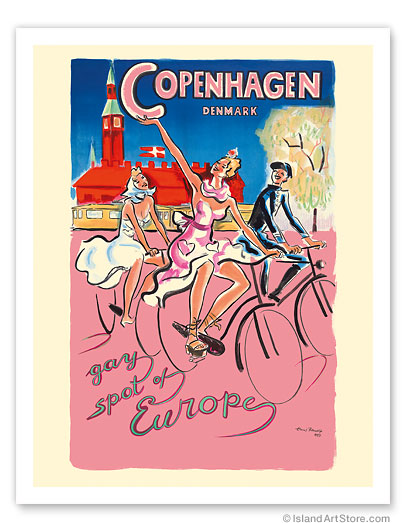 DISPLAYING: 11" x 14" Fine Art Print

HANS BENDIX (1898-1984)
Danish cartoonist, painter and cultural radical debater.
Hans Bendix was trained as a painter in Paris , London and Copenhagen and made ​​his debut at the Autumn Art Exhibition 1922 . in 1925 was he draws at Le Quotidien in Paris. Hans Bendix was interrupted by a reluctantly exile (in the United States 1941 - 1945 ) account by Social-Democrat in 1922 - 1950 . He showed here his sense of political satire, reportage drawing and especially theater and ballet drawing and portrait portrayal; particularly empathetic of actress Bodil Ipsen. He could be in a minimal expressive stroke retain volatile movements, facial expressions and personality. From 1925 he designed for cuttlefish , 1926-28 to Critical Revue . He was co-editor of the anti-Nazi magazines Aandehullet and Culture match. From 1950 until his death he designed for the daily newspaper Politiken and was co-editor of the home's Sunday in 1948 -50. Bendix 'style was easy and graceful and appeared sometimes in depictions of young women, and he made no secret of his inspiration and enthusiasm by French culture and the arts.
---