Fine Art Prints & Posters
---
French Seaside Resorts - Beach Tent and Conch Shell
Jean Picart Le Doux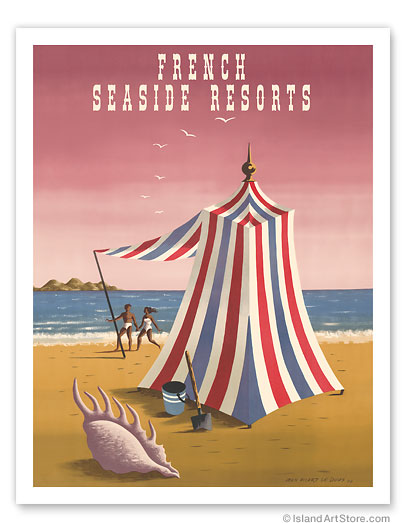 DISPLAYING: 11" x 14" Fine Art Print

JEAN PICART LE DOUX (1902-1982)
Jean Picart Le Doux, son of the painter Charles Picart Le Doux (1881-1959).
Without specialized training, he made his debut in bookbinding and publishing, and then he turned to advertising and graphic arts and publishing his first works in 1935.
In 1950, heproposed the idea of ​​the "Alliance Graphique Internationale" during a meeting at an exhibition in Basel, where he met with famous poster artist Jean Jacques Colin, Nathan, Fritz Buhler and Donald Brown.
AGI was officially founded on November 22, 1952 and Picart Le Doux became it's first president. He is buried in Père-Lachaise cemetary in Paris.
---