Fine Art Prints & Posters
---
Maskelyne and Cooke - A Lady Floating in the Air Illusion - at the Egyptian Hall - c. 1873
Vintage Magic Poster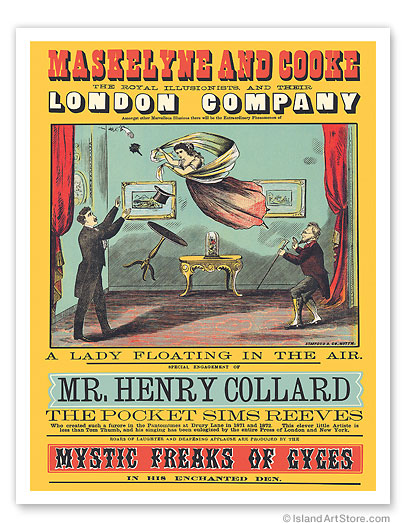 DISPLAYING: 11" x 14" Fine Art Print

Maskelyne and Cooke
The Royal Illusionist and their
London Company
Amongst other Marvellous Illusions there will be the Extraordinary Phenomenon of
A Lady Floating on the Air
Special Engagement of Mr. Henry Collard
The Pocket Sims Reeves
Who created such a furore in the Pantomimes at Drury Lane in 1871 and 1872. This clever little Artiste is less than Tom Thumb, and his singing has been eulogized by the entire Press of London and New York.
Roars of Laughter and Deafening Applause are Produced by the
Mystic Freaks of Cyces
In His Enchanted Den.
---