Fine Art Prints & Posters
---
Warsaw Poland - Saxon Palace Gardens Fountain - Warszawa, Varsovie, Warschau - Pologne, Polen
Tadeusz Gronowski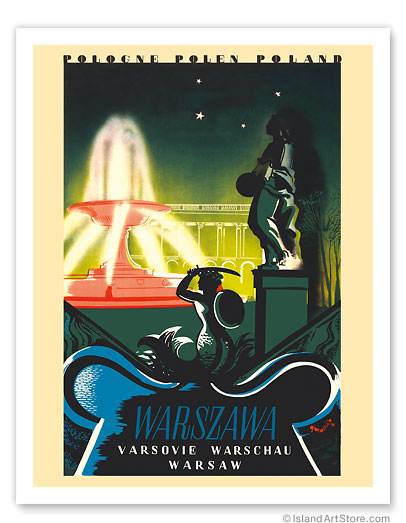 DISPLAYING: 11" x 14" Fine Art Print

TADEUSZ LUCJAN GRONOWSKI (1894-1990)
Was a Polish graphic artist, architect who worked as an interior designer, painter, and a book illustrator.He is considered to be one of the creators of the Polish modern poster.
Among his works is the still-used logo of the LOT Polish Airlines, which dates to 1929.He graduated from the department of architecture (Polish: Wydział Architektury) of the Warsaw University of Technology, where he studied during 1917-1925, as well as at the école nationale supérieure des Beaux-Arts in Paris, where he also studied painting.
During his studies in Warsaw he belonged to the academic society Welecja (Polish: Korporacja Akademicka Welecja).
As graphic artist he worked for such periodicals as Pro arte et studio, Skamander and Życie Literackie.
He designed print advertisements for pre-WWII notable companies such as E.Wedel (chocolatier), Orbis Hotels (then a tourist agency) and Herse stores.
He is the creator of the still-used central graphic element of the logo of the LOT Polish Airlines, which design won the contest in 1929 set up by the airline in order to choose a new trademark.
---