Fine Art Prints & Posters
---
BAS Le Bourget Paris - Stockings Hosiery - Transparents comme l'air (Transparent like Air)
Charles Lemmel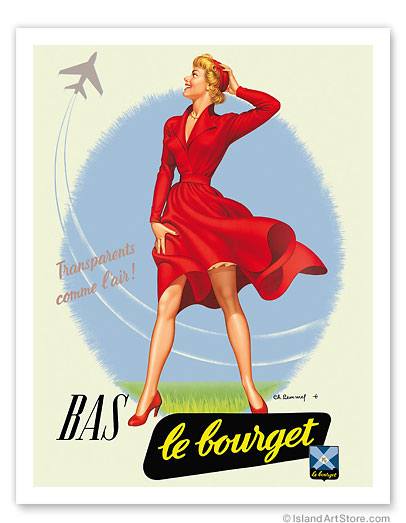 DISPLAYING: 11" x 14" Fine Art Print

CHARLES LEMMEL (1899-1976)
He was a poster artist and illustrator with an unusually long career who put his art at the service of advertising. His realistic style and mastery of modeling did wonders to represent the characters - Young women who were cheerful, healthy, tonic, and not sophisticated. They were accessible but reserved, attractive but neither naughty nor seductive as those of Brenot, they fully play their role as vector of desire but do not promise anything more.
Adopting what he called the "American Style", whose influence was felt in the early 50s, he took a place a little apart from the other French poster artists and illustrators such as Willemot, Savignac, Paul Collin, and Morvan.
He especially expressed his talent for alcohol brands or products which put women in the spotlight include Bonal, Cinzano, Le Bourget, and the Grande Chartreuse.
---