Fine Art Prints & Posters
---
Canadian Pacific Railway Company - CP FP9A 4040 Diesel Locomotive Train - CPR Logo Beaver Shield
Peter Ewart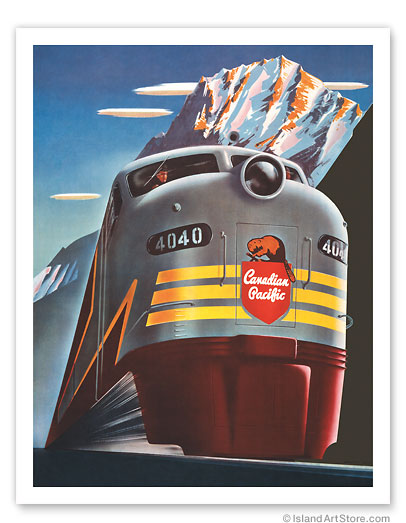 DISPLAYING: 11" x 14" Fine Art Print

PETER EWART (1918-2001)
In his commercial work, Peter Ewart was noted for dynamic designs and illustrations in posters that caught the eye and inspired the imagination. During the 1940's and 1950's, he became one of Canadian Pacific's major artistic contributors. In 1940, the poster Sports d'Hiver marked the beginning of a seventeen year working relationship in which Ewart designed twenty-four posters and two serigraphic prints for the Canadian Pacific Railway and Canadian Pacific Airlines. These travel posters were displayed throughout the country and abroad as part of a long-lasting and highly effective advertising campaign for the "World's Greatest Travel System", and one of Canada's iconic corporate institutions.
After taking a two-year correspondence course in commercial illustration and attending classes at both Sir George Williams College in Montreal (now Concordia University) and the Art Association of Montreal (now Musee des Beaux Arts), Ewart enrolled in the Commercial Illustration Studio of New York City. The school emphasized the avant-garde work of such designers as A.M. Cassandre, E. L. McKnight Kauffer, Joseph Binder and Tom Purvis. It was a momentous year, as it opened him to new ways of seeing and thinking, and to a myriad of new possibilities.
---