Fine Art Prints & Posters
---
Folies Bergère (Cabaret Music Hall) - Paris, France - Hélène Martini présente "J'Aime a La Folie!"
Erté (Romain de Tirtoff)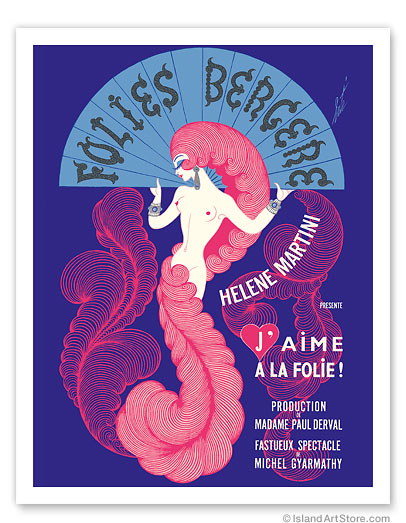 DISPLAYING: 11" x 14" Fine Art Print

Hélène Martini, The Iron Lady - presents "I Am Madly in Love!"

Erté, (Romain de Tirtoff), 1892 - 1990
Romain de Tirtoff was a Russian-born French artist and designer known by the pseudonym Erté, from the French pronunciation of his initials. He was a diversely talented 20th-century artist and designer who flourished in an array of fields, including fashion, jewellery, graphic arts, costume and set design for film, theatre, and opera, and interior decor. Erté is perhaps most famous for his elegant fashion designs which capture the art deco period in which he worked. One of his earliest successes was designing apparel for the French dancer Gaby Deslys who died in 1920. His delicate figures and sophisticated, glamorous designs are instantly recognisable, and his ideas and art still influence fashion into the 21st century. His costumes, programme designs, and sets were featured in the Ziegfeld Follies of 1923, many productions of the Folies Bergère, and George White's Scandals. On Broadway, the celebrated French chanteuse Irène Bordoni wore Erté's designs. In 1925, Louis B. Mayer brought him to Hollywood to design sets and costumes for the silent film "Paris".
By far, his best known image is "Symphony in Black", depicting a tall, slender woman draped in black holding a thin black dog on a leash. The influential image has been reproduced and copied countless times. His work may be found in the collections of several well-known museums, incl. the Victoria and Albert Museum and the Metropolitan Museum of Art.
---