Fine Art Prints & Posters
---
Versailles, France - Séjour idéal à 20 minutes de Paris (Ideal Stay 20 minutes from Paris)
René-Raymond-Louis Aubert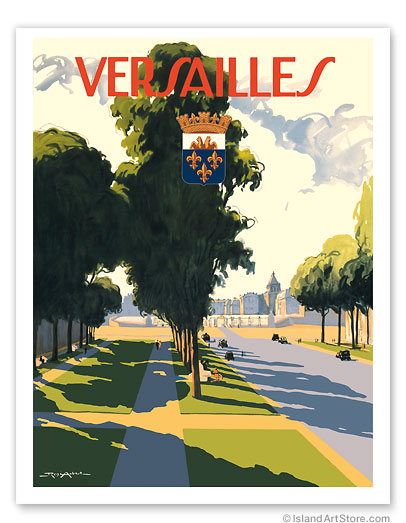 DISPLAYING: 11" x 14" Fine Art Print

René Aubert (1894-1977)
He was a painter, lithographer and illustrator French.
Born crippled in La Loupe in 1894. He spent part of his youth in Berck in the Calot Institute, where he was part of "Lying Berck." He took advantage of these years to learn the violin and learn to paint.
He attended the Académie de la Grande Chaumiere and the School of Fine Arts in Paris where he studied under Lucien Simon As a illustrator he covered legal cases for the press, including the trial Henri Désiré Landru in 1921 and every Versailles trial, like that of Joseph Roelants "the brawler of Vesinet" in February 1935. He simultaneously was part of the Salon of French artists from 1926 to 1942, receiving several awards and distinctions
In 1927, the quality of his cartoons raised the demand for illustrations in the publishing world. Worked as an Art teacher in the town of Versailles, and in 1938 he was appointed director of the School of Art (later the School of Fine Arts in 1953), and would retain this position until 1966.
Although known for his still lifes and genre scenes, the most important part of his work relates to landscapes, often located in the village of Meslay-le-Vidame (Eure-et-Loir) where he painted its summer habits. His death was followed by a retrospective-tribute organized by the city of Versailles in December 1977.
---