Fine Art Prints & Posters
---
Hungary - Hortobágy National Park - Hungarian Duck
György Konecsni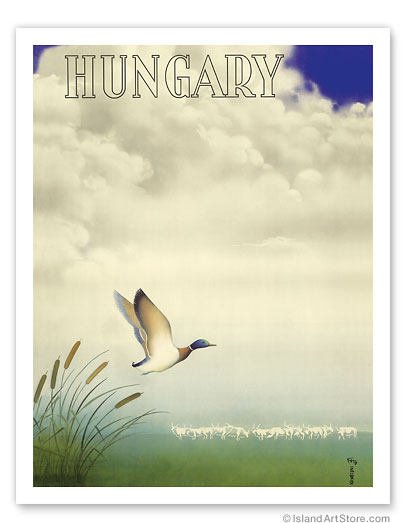 DISPLAYING: 11" x 14" Fine Art Print

György Konecsni (1908-1970)
was one of the leading poster artists in Hungary from the 1930s and onward. His classicist art deco designs first appeared on the streets in the 1930s. From 1945 to 1949, he was the engine of the development of political poster art, imbuing the genre with new quality. His work had profoundly affected generations of Hungarian poster artists. An artistic authority, Konecsni was the most important teacher of commercial graphic design.
Between 1927 and 1931, Konecsni himself studied at the Academy of Fine Arts, Budapest, where his master was the plein-air painter Gyula Rudnay. At the beginning of his career Konecsni was a committed leftist artist. In 1932, he was imprisoned for his political activity. In the 1930s and 1940s, while making mostly touris and comercial designs he introduced a new classicist style which brought him international success. He was awarded twice the Faud goblet at the International Tourism Congress (1934, 1936), the Diplome d' Honneur at the World Exhibition of Paris, and the Grand Prix at the Milan Triennial. A pioneer of offset printing, Konecsni worked together with the company founded by György Klösz.
---